Under 17 Driving Lessons
Young Driver Training, Chippenham Wiltshire
Get A Head Start On Learning To Drive on a real race track at Castle Combe Chippenham

YOUNG DRIVER DATES JUST ANNOUNCED FOR 2022


Sun 13th March

Sun 10th April

Sun 8th May

Sun 5th June

Sun 3rd July
Sun 31st July

Sun 14th August

Sun 2nd October

Sun 16th Ocrober
Start learning to drive as a young driver from the age of 12 in a safe and controlled off-road environment by professional DVSA approved driving instructors. All Julie Murphy's driving School instructor cars are fitted with dual controls for parents/guardians peace of mind. The courses are designed to develop the pupils skills in a fun but educational way putting them ahead for when they are able to learn on the roads.
The under 17 driving courses are carried out at the famous Castle Combe Race circuit where the pupil has masses of room to develop their steering skills on the wide race circuit unlike other courses which are confined to car parks. These courses enable the pupil to gain clutch control, stopping, starting, steering, roundabouts, giveway and stop junctions and parking and reversing exercises too. We even offer a course which prepares them for their first driving lesson at 17 by introducing the msm routine which is needed in every aspect of driving.
Courses offered
Details of the 3 courses available can be found below, all run by Julie Murphy's Driving School with professional, patient and friendly instructors.
1st Gear
The ideal place to begin your driving career in the safest of hands, the Startline Starter Drive programme consists of a 35 minute driving experience designed for those who've never been behind the wheel before. The course itself consists of a one-to-one introduction to driving and the track and infield setup to mimic a real world driving scenario, complete with roundabouts, lanes and stop signs.
Group into and safety briefing
Learning skills
Moving Off
Stopping
Steering control
Changing up the gears
Bay parking to left or right
Debrief and presentation of certificate on the famous Castle Combe Podium!
Theory quiz
All for just £55


2nd Gear
A 60 minute one to one course that's ideal for those either taking their first session behind the wheel or seeking to graduate from the Starter programme. Advanced Drive sessions see students tackling an array of common scenarios, including reversing and parking, as well as correct roundabout technique, dealing with traffic lights and appropriate speeds in different speed limits amongst how to deal with common signage. The course itself provides ample time for students of all ages an opportunity to really feel at home behind the wheel.
Group intro and safety briefing
Learning skills
Moving off
Stopping
Steering control
Changing gear
Planning and awareness for speed changes
Practising approaching speeds to traffic lights and how to stop at correct position
Learning to bay park on the left and the right
Debrief and presentation of certificate on the famous Castle Combe Podium!
Accompanied garage session to introduce the theory of driving, show me tell me questions
Beer goggle experience (to demonstrate the affects of drink/drugs when driving)
Theory quizzes
Option to sit in a Honda racing car!!!
All for just £95


3rd Gear
The ultimate driving experience for under 17s and the ideal proving ground for those seeking to graduate from the Advanced Drive course. Consisting of a one-to-one lesson on the iconic Castle Combe circuit, the course gives students the opportunity to learn as they would in a 'regular' driving lesson/test, so there really is no better way of preparing for the real deal. The 1 hour 10 minute one to one driving session includes mileage on the track covering common maneuvers, driving requirements and much, much more. The course ends with a comprehensive debrief session consisting of detailed analysis from an instructor, as well as a certificate presentation.
Practise using the mirror, signal, manoeuvre routine when:-
Moving off
Stopping
Reversing
Changing speed
Improve confidence in changing up and down the gears, dealing with roundabouts and traffic lights and planning for changes of speed limits
Learn the correct way to do an emergency stop
Learn how to turn the car around with a turn in the road
Debrief and presentation of certificate on the famous Castle Combe Podium!
Assessment sheet to take to your instructor when you start lessons
All for just £115


3 Course Driving Lesson Bundle
The Ultimate Treat for your Teenager!
This voucher bundle includes:
- Startline 1st Gear Voucher (Worth £55)
- Startline 2nd Gear Voucher (Worth £95)
- Startline 3rd Gear Voucher (Worth £115)
All vouchers are valid for 12 months from date of purchase. Total value of bundle: £265 - Save 15%!
All for just £225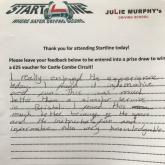 'I really enjoyed the experience today. I found it informative and fun. This was much better than a similar service in Bristol. I found this much better because of the space and the instructor was fun and informative and also very knowledgable.'
- Alex - Driving Student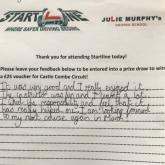 'It was very good and I really enjoyed it. The instructor was fun and I learnt alot. I liked the responsibility and feel that it has really helped me. I am looking forward to my next course again in March.'
- Archie - under 17 driving student
'I found my session thoroughly enjoyable. It was educational and will be a huge benefit for me when I come to take my test.'
- Bradley
'I really enjoyed my time here at Startline. The members of staff were really helpful and polite and the instructions were really clear. Maybe next time some more learning about all the different parkings. Overall great time, will be coming again.'
- Isabel