Under 17 Driving Lessons
Young Driver Training, Chippenham Wiltshire BOOK HERE

Get A Head Start On Learning To Drive on a real race track at Castle Combe Chippenham.
Start learning to drive as a young driver from the age of 14 in a safe and controlled off-road environment by professional DVSA approved driving instructors. All Julie Murphy's driving School instructor cars are fitted with dual controls for parents/guardians peace of mind. The courses are designed to develop the pupils skills in a fun but educational way putting them ahead for when they are able to learn on the roads.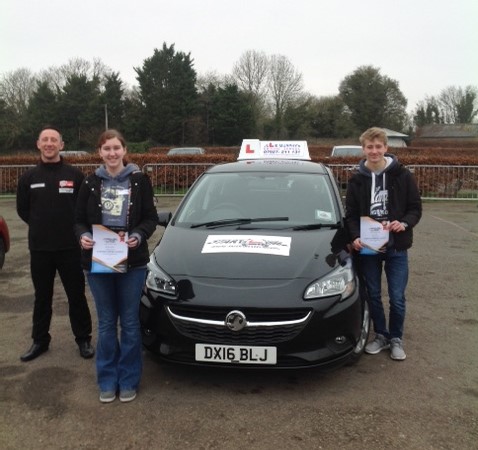 The under 17 driving courses are carried out at the famous Castle Combe Race circuit where the pupil has masses of room to develop their steering skills on the wide race circuit unlike other courses which are confined to car parks. These courses enable the pupil to gain clutch control, stopping, starting, steering, roundabouts, giveway and stop junctions and parking and reversing exercises too. We even offer a course which prepares them for their first driving lesson at 17 by introducing the msm routine which is needed in every aspect of driving.
We are quite unique in that we can also offer a fun garage session where the pupil will be able to spend time sitting in the static Honda racing car, play with the controls, photo opportunities and have a go at show me tell me questions and be tested on theory questions and road signs . We also offer the beer goggle experience so the pupil can see how drinking affects our senses.
We have a great team of instructors who are professional, patient and calm in all circumstances. We have a wide range of vehicles to choose from so it you have a favourite you can request to have that instructor and we will always do our best to accommodate.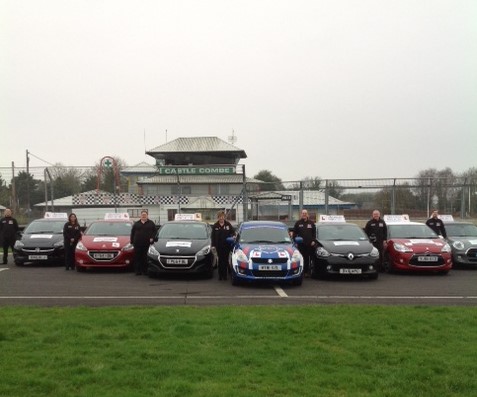 Don't forget to have a look at feedback below from a few of the many pupils who have booked with us, to see what they have to say about our courses, our instructors and their experience. BOOK HERE to avoid disappointment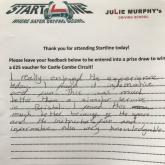 'I really enjoyed the experience today. I found it informative and fun. This was much better than a similar service in Bristol. I found this much better because of the space and the instructor was fun and informative and also very knowledgable.'
- Alex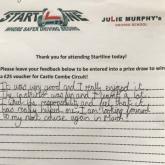 'It was very good and I really enjoyed it. The instructor was fun and I learnt alot. I liked the responsibility and feel that it has really helped me. I am looking forward to my next course again in March.'
- Archie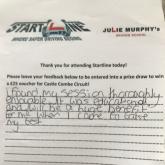 'I found my session thoroughly enjoyable. It was educational and will be a huge benefit for me when I come to take my test.'
- Bradley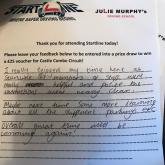 'I really enjoyed my time here at Startline. The members of staff were really helpful and polite and the instructions were really clear. Maybe next time some more learning about all the different parkings. Overall great time, will be coming again.'
- Isabel