Semi-Intensive Driving Courses
Julie Murphy's Driving School offers intensive driving courses with a difference. All our male and female instructors are calm, patient and professional and all have dual controlled vehicles.
What is a semi-intensive course
A semi intensive is where you do 4 hours or more a week. If you would like to learn to drive quickly without compromising on safety and to be able to absorb the theory and practise without overload then a semi intensive course may be for you. The good thing about this sort of course is it fits around work, college or family commitments too and sometimes is a more realistic way of paying for it.
What do you need to book a course
You need to be studying for, or already booked a theory test,
Hold a provisional license
Be able to fund your course over a shorter period of time as lessons will be required to be paid in blocks of 10 minimum.
How does it work
You will be given a 2 hour assessment to see what level you are at if you have already had lessons before, to see how you adapt to driving if you are a beginner and to see if you find longer lessons beneficial. It also enables you to see how you get on with the instructor before you commit to an intensive driving course. At the end of this lesson you will be advised how many hours approximately you will require. A test date will then be booked with the agreement of the instructor and pupil and then you will have 4 or more hours a week leading up to the test.
If you have some experience already and think you would like to do your lessons more intensively, then have a look at our intensive driving courses.
How to book
For an informal chat or to book your first lesson with us, please feel free to get in touch.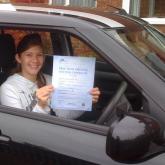 '"Julie I thought you were a fantastic instructor. You were really encouraging and pushed me to do better and improve but did really well to boost my confidence when I needed it. You made it really fun too" Passed first time! '
- Ciara