Provisional Driving License
Before you can learn to drive a car you must apply for a provisional driving licence. For new pupils undertaking professional driving tuition through a driving school you driving instructor will ask to see your provisional driving licence before driving lessons commence.
The easiest way to apply for your Provisional Driving Licence is on line at the DirectGov website. You can do this if you:
are a resident of Great Britain
can meet the minimum age requirement
can meet the minimum eyesight requirement
are currently not prevented from driving for any reason
can pay £34.00 (Price correct at time of writing. Check the DirectGov website for the latest prices) by MasterCard, Visa, Maestro, Electron, Delta or Solo debit or credit card
have a valid UK passport or another form of identity
can provide addresses of where you have lived over the last three years
Alternatively, you can apply in person at a Post Office (ask for a D1 form). You will also need to enclose original documentation confirming your identity, a passport style colour photograph and the fee.
Apply Online for a Provisional Driving licence.
Did you know that you can apply for your Provisional Driving Licence up to 3 months before your 17th birthday? At Julie Murphy's driving school we can even arrange for your first driving lesson to be taken on your 17th birthday. Making your 17th birthday a truly amazing and special day!
Learn to drive with ADI qualified friendly male and female driving Instructors in Swindon, Chippenham, Calne, Melksham, Wootton Bassett, Devizes, Lyneham, Gloucester, Cirencester and Minety and all surrounding villages.
How to book
For an informal chat or to book your first lessonwith us, please feel free to get in touch.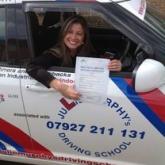 'Andressa's feedback who passed first time from Churchward, Swindon "Thank you ever sooooo much, honestly couldn't have done it without you. You are such a nice person you have got the patience of a saint to teach and you try your best to understand us immigrants!!! It was my pleasure to have the most amazing, brilliant and honest driving instructor in swindon :D xxx'
- Andressa