Pass Plus
PASS PLUS is a training scheme for new drivers. It's much more than just a few extra lessons. This specially designed course helps you:
Gain valuable driving experience safely: you will be taught how to deal with a wide range of road and traffic situations, many of which you probably won't have faced before.
Build on your existing skills and knowledge: it can take years to become a skilled driver. PASS PLUS helps get you there by speeding up the learning process under expert tuition.
Reduce your risk of being in a road crash: the course will help boost your awareness of all kinds of hazards and help you learn how to anticipate, plan for and deal with them safely.
Save money on car insurance premiums: naturally, you will have to pay for the course. Ask us about the costs of our PASS PLUS packages. Bear in mind too that it will take a minimum of six hours, all of which need to be taken after passing your test. When you have successfully completed the course, you are advised to check available discounts offered by the

insurance companies taking part in the scheme.

Boost your confidence: if you feel nervous driving on your own, the PASS PLUS training can help you become more confident on the roads.
Give peace of mind to your loved ones.
What does the Pass Plus training include
PASS PLUS consists of six practical modules which cover driving in town, in all weathers, on rural roads, at night, on dual carriageways and on motorways. You can take it at any time within the first 12 month of passing your test.
There is no test at the end of it – your driving will be continually assessed and you must successfully complete all the modules in the course to an achieved over exceeded standard:
Achieved: successfully reached the standard required for each of the competencies.
For an informal chat or to book your first lesson with us, please feel free to get in touch
How to book
For an informal chat or to book your first lesson with us, please feel free to get in touch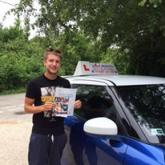 'Tom passed his test first time at Julie Murphy's Driving School and went on to do his pass plus.'
- Tom