Driving School Pupil Reviews
Hall of Fame!!!
Please find below a few reviews from pupils who have passed their test with Julie Murphy's Driving School and see what people are saying about their experience of learning to drive with us.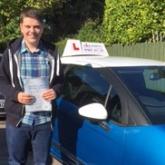 Matt
First time pass - I would like to thank Karen for what she's helped me to achieve, passing first time with only two minors was way beyond my expectations . It's all due to her calmness, patience & giving me the confidence that I could do it. I can't thank her enough & I would definitely recommend Julie Murphy's driving school .
Bealey
First time pass - I really enjoyed my lesson time with Julie! She's a brilliant teacher and did everything right to keep me safe! Sometimes during my lesson times I really wanted to give up but Julie really encouraged me and aspired me to drive on! She pushed me and was very determined for me to pass ! and fortunately I did with only 3 minors! I strongly recommend Julie murphy's driving school as she's very professional & encourages all her students to do there best of there ability!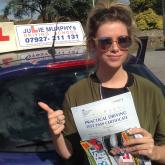 Jess
First time pass - Claire was absolutely awesome as an instructor. I've tried driving on and off since I was 17 (now 23) but my anxiety always got the better of me, however Claire knew just how to keep my calm, she helped pick my confidence off the floor and taught me how to be less self doubting and trust in myself more. I can't thank her enough for being so wonderful and caring and getting me to realise that maybe I'm not as useless as I first thought! Thank you!!!!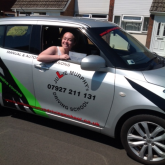 Georgia
First time pass "When I first started learning to drive I was incredibly nervous and anxious being behind the wheel and I never thought that I would be able to pass. But with Julies help I was able to gain more and more confidence throughout my lessons which enabled me to pass first time. She was calm, relaxed and was able to keep pushing me, but never once did I feel uncomfortable. I can't thank her enough and would recommend her to anyone who is a nervous first time learner."
Russell
First time pass - Would highly recommend this driving school, the instructors are lovely and very informative and great at teaching you how to drive safely and properly. I ended up passing first time with no minors because of this excellent driving school. I am very pleased and impressed - Russell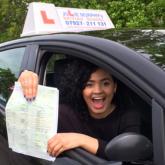 Charlotte
First time pass - "Over the moon thank you sooooo much"
Lauren
I would like to say a really big thank you to Claire for getting me to where I am today with passing my driving test first time .. She has helped me out so much from the first instructor I had she has turned my life around completely not just for me. but for my two little boys and my partner I can't thankyou enough Claire .. You have been Amazing .. I like the way your more like a friend when I get in the car on a Wednesday then a instructor helped me keep calm through out the whole lessons I had ... So thank you ☺️☺️
🚗
🚗
Laura
Passed first time -" In the past I had a bad experience with an instructor, failed 4 times and was a nervous wreck behind the wheel. I never thought I was going to pass! From my first lesson with Julie I felt at ease, she is really committed to making you a safe and confident driver. Nothing is overlooked and everything is gone through in so much detail. I passed first time with Julie and couldn't be happier. Thanks so much!!!
Paige
Paige's feedback passed theory & practical driving test first time - instructor Claire. "Thank you Claire for all your help, passing my theory and practical both first time! You had helped my confidence grow and have been a great driving instructor! I will recommend you to all my friends! Thank you so much! :) "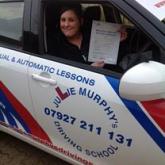 Lucy
Passed first time "Julie was a fantastic instructor so friendly and very funny! I loved every minute of it and wouldn't change a thing! She made me feel at home and I am so grateful for everything she has done for me, Thank you so much Julie :) Lucy xx "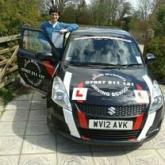 Rupert
"I would like to thank Steve for providing such excellent driving lessons. i never thought i would have the confidence to drive in such a busy area as swindon, but thanks to the great teaching i received, i now feel happy driving anywhere and enjoy roundabouts! Thanks so much and i would recommend you to anyone who wants to learn to drive."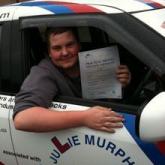 Aaron
Aaron's feedback from Stratton, Swindon - First time pass!"Julie Is one amazing instructor, laid back but keeps you in check at all times. Julie explains every detail clearly and if you still have problems understanding Julie will keep explaining until you get it and it sinks in. I would recommend Julie to anyone wanting to learn to drive. Thanks to Julie I was able to pass my test first time."
Sandra
Sandra's feedback:-
I was a very mature pupil for Claire to take on. I had never even thought to drive before my husband had to give up due to ill health. I could not have wished for a better instructor. Claire was with me all the way and gave me the confidence to go for it. She started off as my instructor but has now become a true friend. I thank her a million times for getting me where I am.
Aiden
Passed first time - "Julie is a fantastic instructor who I would highly recommend to anyone.Julie makes the driving lessons fun, enjoyableand also very comfortable. A top instructor by far :)"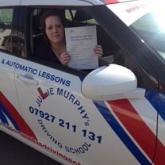 Charlotte
Charlotte's feedback
"Thank you very much to Julie Murphy from Julie Murphy's driving school for helping me pass my test today , and had patience throughout my driving , I have learned so much with Julie that I would love to recommend her to anybody who is looking to drive in a manual. thank you once again you have been amazing :-) "
Concetta
Concetta's feedback from Rodbourne, Swindon - First time pass! - "Julie Murphy is a fantastic instructor she's patient and is always trying to find ways for you to improve and be an excellent driver. No matter how difficult you find something she always has the confidence in you to be able to do it. I enjoyed all my lessons and I would highly recommend her to everyone. Thank you Julie!"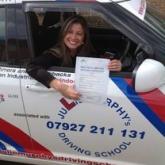 Andressa
Andressa's feedback who passed first time from Churchward, Swindon "Thank you ever sooooo much, honestly couldn't have done it without you. You are such a nice person you have got the patience of a saint to teach and you try your best to understand us immigrants!!! It was my pleasure to have the most amazing, brilliant and honest driving instructor in swindon :D xxx
Amy
Amy's feedback from Eldene - first time pass "Julie was an amazing instructor had a great deal of patience and was always smiling and happy. I would definitely recommend !!!!!!!"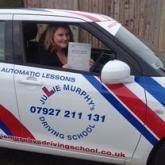 Abigail
"Thank you for helping me pass my test first time. Really patient and supportive and really helped me gain the confidence to pass. I'd recommend you as a teacher to anyone. Thank you again! Abi :-)"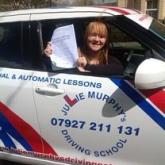 Hannah
Hannah's feedback from Redhouse who passed first time "Thanks so much Julie, you were an amazing driving instructor, you helped me so much with my nerves! x"
Patrick
Patrick from Highworth - Passed car driving test in Swindon first time!
"I was recommended by a friend to take driving lessons with Julie Murphy's Driving School in Highworth. Glad I did as Julie is a great instructor and got me through my driving test first time. Many thanks..."
Hannah
Hannah Williams who passed first time with Julie Murphy's Driving School with only 2 minors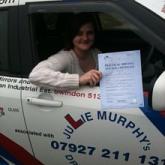 Jade
passed first time. "I felt really comfortable learning to drive with Julie, she's a great driving instructor. I have learnt so much with her and she made sure I felt ready for my test which made me feel confident. Thank you for helping me to pass first time."

Jess
"Claire was an amazing driving instructor who helped me build my confidence on the road and was patient when teaching. I would highly recommend Claire and Julie Murphy driving school"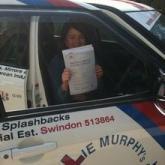 Jessica
"Julie Thank you soo much for getting me through my test - after failing four times with a different school - just a couple of sessions with you and I sailed through. You are a great instructor and no question that without you I would still be on L plates. THANK YOU Jessica"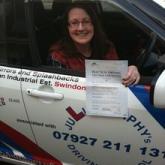 Rachel
First time pass! "Thank you so much for all your support and encouragement that enabled me the confidence to take my test. I felt you always listened to my concerns and were able to bring the best out of me in terms of my driving abilities, what a wonderful mentor you were and I shall recommend you to all.


Megan
passed first time "Thank you so much for helping me pass my driving test, you had so much patience with me that really helped me get confident with my driving. Setting targets for me and showing my progress each week really helped me improve quickly. I look forward to hopefully doing my pass plus soon :) thanks again :) Megan x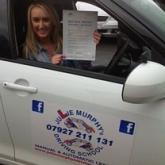 Katie
first time pass "Passed my test on Monday!!!!! soooooo happy, all thanks to a wonderful teacher Julie Murphy! Couldn't have done it without your help:) and i would recommend anyone who is looking for a good teacher who is also very friendly and easy to work with to go with Julie Murphy's driving school xx"
Hannah
"After years of driving lessons and 2 driving instructors I was really nervous starting with James. But he completely got rid of my nerves, taking me through everything and is really patient! I've loved having lessons with James and he's a real credit to all driving instructors and the business! Thanks so much James!"