Driving Lessons
Julie Murphy's Driving School offers quality driving lessons in Swindon, Chippenham, Calne, Melksham, Wootton Bassett, Devizes, Lyneham, Gloucester, Cirencester, Minety and surrounding areas. Our driving instructors are patient, professional and work their hardest to achieve great results. We teach pupils to become safe and confident drivers, not just pass a test. Our reputation is important to us and this is why we are a highly successful driving school.
Types of driving lessons
We offer a variety of different driving lessons. You can have weekly lessons, or we also offer semi-intensive driving courses and intensive driving courses.
We also offer the following:
Driving Education & Corporate Assessments
What to consider?
Attitude/Safety
Every individual will learn to drive at a different rate and will find something's more challenging than others. It is important that you feel comfortable with your Driving Instructor otherwise this could impact on your driving lessons progression. Also as a parent for example when booking a driving lesson for your daughter or son to learn to drive you may prefer a female/male driving instructor.
Value for money
The average beginner will have approximately 45 hours of driving tuition, although this will very much depend on the individual. This is a big financial commitment therefore it is important that you feel you are getting value for money. In order to do this you need to make sure you are receiving quality driving instruction.
Vehicle
You need to consider what sort of vehicle you want to learn to drive in as this can assist in your progression. For example good all round vision is important, you also need to feel comfortable and some vehicles have more flexibility than others. A car with a good turning circle helps too, or maybe you just want some street credibility.
Flexibility
Generally when a pupil is learning to drive they are either working or at college, therefore finding a driving instructor that can fit driving lessons in around your lifestyle is also important. So where do you start with this as there are lots of driving schools offering driving lessons out there and without making lots of phone calls how do I know who to book with?
Julie Murphy's Driving School is one of the biggest independent driving schools in the Swindon area and comes highly recommended by many pupils (see our reviews) so don't waste time and get in touch today.
How to book
For an informal chat or to book your first lesson with us, please feel free to get in touch.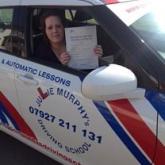 'First time pass - Thank you very much to Julie Murphy from Julie Murphy's Driving School for helping me pass my test today, and had patience thoughout my driving. I have learned so much with Julie that I would love to recommend her to anybody who is looking to drive in a manual. Thank you once again you have been amazing :-)'
- Charlotte (Swindon)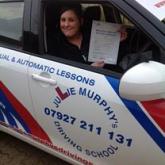 'First time pass - "Julie was a fantastic instructor so friendly and very funny! I loved every minute of it and wouldn't change a thing! She made me feel at home and I am so grateful for everything she has done for me, Thank you so much Julie :) Lucy xx "'
- Lucy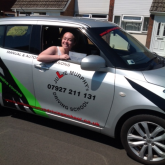 'First time pass "When I first started learning to drive I was incredibly nervous and anxious being behind the wheel and I never thought that I would be able to pass. But with Julies help I was able to gain more and more confidence throughout my lessons which enabled me to pass first time. She was calm, relaxed and was able to keep pushing me, but never once did I feel uncomfortable. I can't thank her enough and would recommend her to anyone who is a nervous first time learner."'
- Georgia