Driving Instructor Reviews
Hall of fame for just a couple of pdi's who have passed part 2 and part 3 tests.
Garth
Hi Julie
I have just come down of cloud nine .thank you so much for all your help.
I first started learning to be an adi with a very big company it took me a year and two failed attempts at part 3 to realise that all they wanted was for me to book extra lessons.Icould write a book on the problems I had with them and I nearly gave it all up .
I then started training with Julie murphy, oh my god what a difference she taught me to teach where as before they taught me to try and beat the test .the kind patient easy to understand tuition made me realise how bad the big company had treated me and without Julie I wouldn't be sat here with a pass. Julie worked with me at a time and place to suit me not her when I didn't understand something or got confused she took me back and explained it in a way that I understood. Julie cares about her clients and in fact I count her as a friend now .when I finished my training with Julie she told me to call her if I needed guiding or help with my new adventure .
I can not speak more highly of this lovely person and brilliant teacher ,if I become half the adi she is I will be proud .thank you so much Julie.
If there is ever anything I can do you for you please call .you are a star Garth x
Pete Lloyd
This qualification process has been in equal measure, the best fun, the most frustrating, the most gut wrenching process I have ever gone through. One thing is for sure it that if it wasn't for Julie, I would have given up months ago. Julie has been the most brilliant trainer with the patience of a saint and determination of a ring fighter to get me through this final test. Yes it has been frustrating dealing with my own doubts but not once has Julie given up on me. Not only has she trained me to her standards (well above those expected from the DVSA) she has given me a career and job satisfaction never experienced in my whole working life. I am so proud to have her name on the roof of my car as I move to this next chapter.
Pete
Peter passed his part two first time at Julie Murphy's Driving School
Derek
Derek who passed his part two with ZERO minors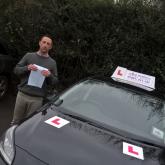 'I began training with Julie in 2015. We all think we can drive but Julie was very diplomatic in the way she broke the news that mine wasn't as good as I thought. Julie swiftly picked up two decades of bad habits and I passed my part 2 on 24.09.15 with zero faults!! With the "easy" parts 1&2 done it was onto the less than easy part 3. I struggled with this but Julie showed great patience as I took 2 steps forward and 3 back most weeks. Julie has great experience which she drew upon throughout my training. She is firm but fair and easily recognises what level to teach at. This is very helpful as test approaches. The training and advice I received especially in the last few training sessions definitely helped me pass my part 3, which I did on 31.1.17 Despite being on a trainee licence for 9 months and actually doing the job, training was still essential to pass. I would like to take this opportunity to thank Julie once again for top class training, patience, and the invaluable opportunity to gain experience on the trainee licence which she sponsored. Anyone with the time, nerves and patience to be considering becoming a driving instructor should give Julie a call. Derek Finlay ADI'
- xDerek