Preparing for your driving test in Chippenham
29.10.2016
---
Preparing for a driving test in Chippenham
Chippenham driving test centre is situated at:-
Unit 11, Cavalier Court
Bumpers Farm, Chippenham
SN14 6LH
It has good access as no steps and there are 6 bays used for learner tests.
The test centre offers driving tests for learners and part 2 and part 3 driving instructor tests.
The practical driving test will consist of a mixture of busy town roads and rural roads. There will be a wide variety of junctions including mini roundabouts, larger roundabouts and crossroads. The rural roads may include faster moving A roads for example the A350.
The practical driving test for learners will last approximately 45 minutes and during this time you will be asked to complete one reversing or parking exercise, 1 in three will be asked to complete an emergency stop and you will need to drive independently for 10 minutes demonstrating your ability to drive following road signs or by a visual aid shown you prior to starting this section still maintaining the driving standard set by the Driving Vehicle Standards Agency.
You will be successful if you have conducted the test without committing any serious or dangerous faults and with no more than 15 minors.
Potential driving instructors tests in Chippenham
The Part 2 driving test lasts one hour and all parking and reversing exercises will be required to be conducted in a safe and controlled manor with effective observations. The pupil will pass as long as they have not had any more than 6 minors and no serious or dangerous faults.
The Part 3 test of teaching ability lasts one hour and the candidate sits in the passenger seat teaching the examiner as though they were a pupil.
The candidate will be required to teach the examiner at phase 1 level (beginner status) for 30 minutes and at phase 2 level (a pupil at test standard or a qualified driver needing improvement).
The candidate will need to demonstrate the delivery of a structured lesson, choose the appropriate level of instruction, ensuring complete control whilst three coreing (identify the fault, anlyse the fault and rectify). At the end of each 30 minutes the candidate will need to have proved learning has taken place with the examiner incorporating all of the above.
During the test the candidate will be asked to teach from 1 of 10 pre set test at phase one and phase 2. To find out more about the pre set tests and videos about the part 2 and 3 practical tests visit our Driving Instructor page
Road works Swindon
I am pleased to inform everyone that Wootton Bassett road and Kingsdown Crossroads two major roads in Swindon are now back open after resurfacing.
Drivers advised to allow more time as works
continue at Greenbridge
The first phase of resurfacing at Greenbridge was meant to be completed during the school holidays but has over run by a couple of days. As schools return on Monday motorists are advised to allow extra time as traffic is bound to be affected. As well as the resurfacing the contractors are rebuilding the traffic island and kerbing along Dorcan Way. Footpath, kerbing and landscaping work will also be carried out on Drakes way this week.
The second phase of resurfacing is scheduled between Monday 21st November and Friday 9th December.
J
unction 16 clearance work to continue in preparation for major junction improvement work
Two way traffic lights will remain in Hay Lane B4005 between the hours of 9.30am and 3.30pm until the end of October while compound construction continues.
From this week perimeter coning will be put in place along Hay Lane in preparation for vegetation clearing. A temporary 40mph limit will be put in place to ensure worker and public safety. This will be in operation 24 hrs a day for the duration of the works.
Vegetation clearance will continue into November with major construction due to start on the M4 eastbound off slip road towards the end of November.
To find out more upates on this scheme visit
Upcoming Roadworks
Rodbourne Road between Baileys Corner/Bruce Street Bridges
1st-2nd Nov - Remedial repairs
Great Western Way between Bruce Street Bridges and Great Western Way
1st-2nd Nov - Remedial repairs
Salzgitter Drive and Nolan Close
18th Oct - 22nd Dec Road Closure
Resurfacing, Drainage works, Footpath widening and kerb replacement
Newport Street and Chamwood Court - New Supply
3rd-8th Nov - 2 way lights
Highway code tip of the week
As we are moving towards the busiest time of the year with Christmas shopping and with all the road works at present in the town lets all be reminded of keeping junctions clear so traffic can flow better.
Box Junctions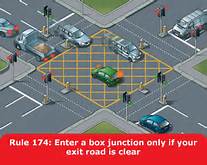 You MUST NOT enter the criss-cross box unless your exit road is clear with exception of waiting for oncoming traffic whilst turning right. At light controlled roundabouts you can only go if you can cross it completely without stopping.