Automatic Driving Lessons
Julie Murphy's Driving School offer automatic driving lessons in Swindon with female driving instructors who are very calm, patient and professional. Our instructors are fully qualified, CRB checked and licensed by the DVSA. We strive to make all automatic lessons enjoyable, fun and productive. All our driving instructors work to a high standard and pride themselves with excellent first time pass rates.
Why Automatic lessons
An automatic car changes gears for you giving you less work to do whilst driving. Learning to drive in an automatic is ideal for pupils who may have co-ordination problems, physical and mental disabilities which may mean changing gear is difficult. It is also suitable for any pupil who only ever wishes to drive an automatic car as passing your test in an automatic means you are only legally able to drive an automatic going forward.
What sort of automatic lessons we offer
We offer normal weekly lessons, semi intensive courses, motorway lessons, pass plus, refresher lessons and we also do Gift vouchers for a special occasion.
Whether you are a complete beginner, have had automatic lessons previously or would like refresher driving lessons we tailor the training to your needs. We specialise in nervous pupils and those that are faced with medical challenges.
How to book
For an informal chat or to book your first lesson with us, please feel free to get in touch.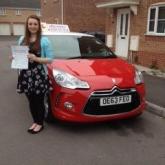 'I would like to thank karen for being a competent confident and incredibly approaching driving instructor. Karen's style is to teach using tried and tested techniques whereby her experience shines through. I have always felt at ease and in safe hands with Karen x'
- Amy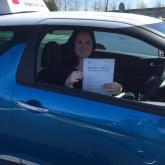 'First time pass for Sarah in an automatic with instructor Karen'
- Sarah - Auto pass